Update 6/29/2017: The funds collected during the month of June to help the employees and owners of Cypress Creek Cafe, as well as KOWO FM lost in the fire on Memorial Day Weekend, will be distributed in July with the guidance of the American Red Cross and Ozona Bank in Wimberley through their "Burning Love" account established to help the employees of Cypress Creek Cafe.
KOWO 104.1FM was destroyed early Tuesday morning (May 30th) in a fire started at Cypress Creek Cafe in downtown Wimberley. KOWO 104.1FM was stationed upstairs at Cypress Creek Cafe, and is the home of Wimberley High School sports. It also provides the community of Wimberley with a great variety of music programming throughout the week.
For the entire month of June, Sun Radio is raising support for KOWO 104.1FM by donating half of all their new donations (one-time, recurring, and any donations from Sun Radio events) to bringing the station back to the Wimberley airwaves.
Whether you drop a couple dollars in the bucket at one of Sun Radio's events, come deliver money to the Sun Radio office at the Hill Country Galleria, or make a one time or sustaining donation at SunRadio.com, half of that will be given to KOWO 104.1 FM to bring the station back to the community of Wimberley.
We thank you for your donations and support!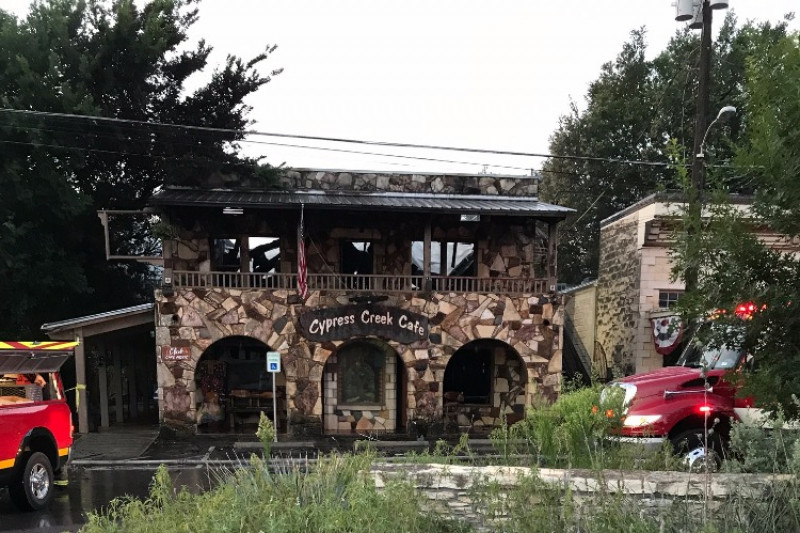 We are devastated to hear about Cypress Creek Cafe this morning… Randy & Trish of Cypress Creek Cafe have been beyond supportive of our station going all the way back to our inception. You can support the families affected by the fire directly. There is a specific account set up at Ozona Bank in Wimberley (101 River Rd, Wimberley, TX 78676) where checks can be made out to the Burning Love Account. All funds will go directly to the Cypress Creek Cafe Family.
KOWO 104.1FM is currently off the air with our antenna/signal originating from Cypress Creek Cafe, all of our equipment has been damaged by the fire. We will keep everyone up to date with the condition of Cypress Creek Cafe as well as when KOWO 104.1FM will be back on the air.

After a loss in the 3rd round of playoffs to Boerne ISD, the Texans have now concluded their 2017 season.  We would like to thank our Wimberley Baseball play-by-play announcer Jarred Robinson (along with Greg Weeks) for calling every game this year.  We look forward to covering Texan Baseball in 2018! 
3/27 – Gonzales (Wimberley Win 15-0)
3/31 – Austin Eastside (Wimberley Win 13-2)
4/7 – Navarro (Wimberley Win 12-4)
4/12 – LaVernia (Wimberley Win 8-1)
4/13 – Canyon Lake non-district (Wimberley Win 7-0)
4/18 – Gonzales (Wimberley Win 11-0)
4/21 – Austin Eastside (Wimberley Win 10-0)
4/25 – Navarro (Wimberley Win 6-5)
4/28 – LaVernia (Wimberley Win 4-2)
5/5 & 5/6 – Playoff Round One (Wimberley Win) 10-0 & 9-3
5/11 & 5/13 – Playoff Round Two (Wimberley Win) 2-0, 2-10 & 5-0
5/16 & 5/17 – Playoff Round Three (Wimberley Loss) 6-12 & 6-7
Season concluded

 `